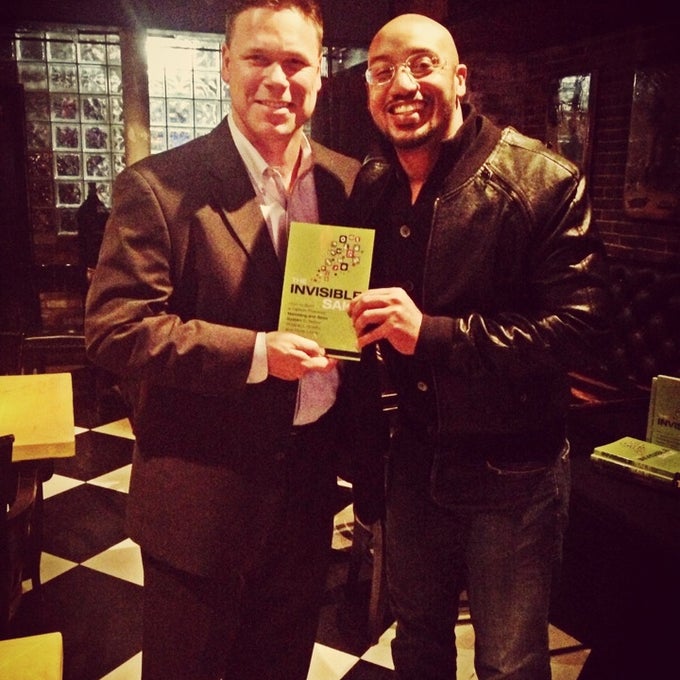 So day three was in Boston and the town was a buzz with the Redsox vs Cardinals World Series starting on Wednesday. Needless to say, had to make a trip to Fenway to buy some Redsox World Series swag for the kids. And I also had to play tourist and give a nod to my youth by making a stop in Cheers. They didn't appreciate it when I yelled NORM on the way in… guess it's an old joke.
I didn't really do that… but it was a fun diversion for an hour.
Boston was a great turnout with the exception of one little challenge — USAir decided to strand one of the hosts, Tom Webster in Phoenix. But luckily for all of us, they fixed the problem and he arrived a mere 1 hour late.
And like every other stop, we learned a valuable lessons here.
Life gets in the way of everything. We had a number of folks that really wanted to come and support the charity but just couldn't make it. What was truly great though was they ended up buying tickets anyhow — just to support the cause. So I'm sending all of them signed books once I get back.
But it taught me something — always have a way for folks to play along even if they can't make it in person. In fact, I'm toying with an idea to extend the tour in a V2 virtual tour. Stay tuned… more on that later.
I also got the chance to meet Joselin Mane (@BostonTweetUp) who, besides being a rocking good guy, was a wealth of knowledge about events and using events (especially charitable focused ones) to drive networking. This guy's forgotten more about the subject than I'll ever know and he was generous with his tips and recommendations.
Mainly, he was driving home a lot of what I have been saying here. His big point is that offline events drive online activity and online activity drives attendance at offline events. It's a circle of life. Nothing new, my buddy Tim Hayden has been preaching the offline-online-mobile mantra for years now. But it's refreshing to see someone in the event space that not only believes it but has become so adept at powering that circle.
If you ever get to Boston, look him up. In the meantime, follow him on Twitter — he's one of the good ones.
In the meantime — off to NYC for Day 4. I'll check in with you then. Click Here if you can join me.